I was called a "tom-boy" growing up, and I loved spending hours in the open fields climbing trees and hiking, or else playing sports in the backyard with my brother and neighborhood friends. I truly experienced my body to be a source of fun, joy, and strength. I was lucky enough that we had plenty of food to eat, and my mother allowed us access to all foods in a totally unrestricted way.
As a young therapist, I became drawn to a feminist understanding of the interplay between how women made choices about food, how they made judgments about body image, and how they experienced their own self-worth. In those early days 28 years ago, my introduction began into the disabling world of those suffering on the restrictive eating disorder spectrum. While treating a wide-range of teens, young adult, and middle-aged women, I learned that restrictive eating disorders were neuro-developmental, brain-based, and anxiety-driven illnesses, and also inter-twined with socio-cultural issues. Food was the medicine, but social/body justice activism were an equally important part of the remedy.
However, I was also painfully aware of the fact that most females were at war with food, and terribly unhappy with their bodies shape and size. While there are many complex factors that may contribute to the development of an eating disorder, dieting to lose weight is one of the most common.
As a result, my deep desire was born to assist you in recovery from your eating disorder. This means learning how to make peace with food, make peace with your body, and finally to make peace with yourself. I know from experience, it is both possible and necessary to develop a relationship with food and your body that is grounded in self-care, self-trust, and ultimately self-love. I teach full recovery so that you may know and feel the truth: who you are is far more important than what you weigh.
A relational style of counseling and psychotherapy reflect my values of collaboration, connection, and mutual respect. I will balance empathy and challenge in my approach to healing and growth. Empathy first; to build trust, and so you feel seen, understood and safe. Challenge next, because recovery will require that you choose courage over comfort. Long-lasting learning, growth, and change happen only outside our comfort zones.
While I incorporate many, one approach that I use frequently bears special acknowledgment. Journal therapy, which involves therapeutic and expressive writing exercises, greatly enhances the healing process. Recent research supports the use of keeping a journal to promote emotional, mental, and even physical health. I teach various journal techniques, together with suggestions for writing prompts to deepen insight and promote change between sessions.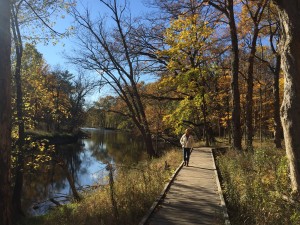 I graduated with a B.A. in Psychology from Calvin College in 1985. I earned my M.A. degree in Counseling Psychology from Loyola University of Chicago in 1989. I have been in private practice, first as part of a women's group, and then as a solo practitioner, since 1990.
I have now launched 3 young-adult children, and reside in Lincolnshire with my husband. Especially happy in my kitchen, I consider feeding my family and friends, and gathering around the table a life-giving and sacred activity.